We use in the course of research of surnames history the following sources: old archival records – s. c. 'The Sigel-Gurjis' in Georgian; from XIX c. - registers of births, marriages and deaths (parish and civil registers), census lists, etc. Also, we study the special literatures, where are information on history and origin of the Georgian surnames. From these materials we can establish: when and where is come from one or another surname, regarding the rank of nobility, their migration, quantity and so on. Therefore, we write the history of surname within the limits of the materials i. e. as far as possible.

We provide the following services to customers interested in genealogy or archival research: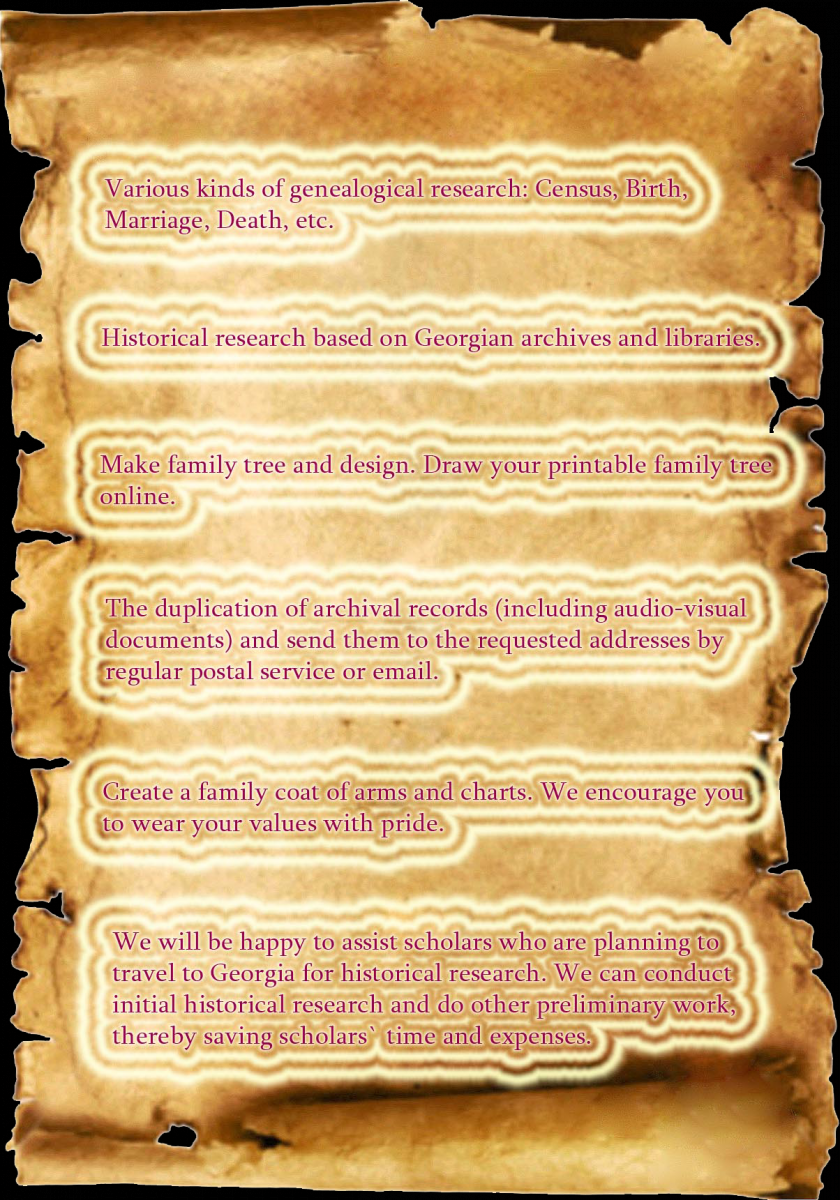 Our service is fee-based; the fee depends on the complexity of the research i. e. on the quantity of the documents studied, number of persons described and the amount information given. The payment also includes technical expenses, postal costs and value added tax. Initial payment (50% of the total fee) is required upon signing a service contract with our company and before the service begins. This sum is not refundable. In case of negative result, a customer will be provided with an official certificate listing the researched documents, with a description of the archival work conducted in each case.
Also, research woks on surname history demand about a month and costs at least 900 €. But the fee of the genealogical works depends on the complexity of the research.

Please submit your request or other specific questions by e-mail at: geogen@geogen.ge and refer to Prof. Rezo Khutsishvili.
If you have any queries we would be pleased to answer.
We will get back to you promptly.

Researcher
Mr. Rezo Khutsishvili profile>>
Doctor of history, Professor
Mobile: (+995) 599 23-54-17
geogen@geogen.ge (recommended)
gegenealogy@gmail.com