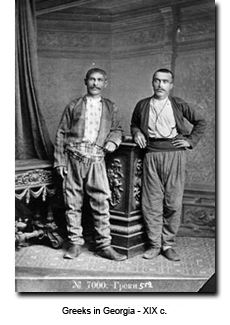 Existence of the important population of Greeks in Georgia as though continues tradition of the Greek-Georgian relationship. Tradition that goes to the ancient times by its origin and probably, with its duration and intensity, represents quite particular event in the history of the relationship of different people of the world.

But absolute majority of Greek population cannot be defined neither as direct descendant of the ancient Greek colonists arrived in Georgia nor as heir of the Byzantine missionary and masters. They were settled here mainly during XIX-XX centuries from those regions where resided so-called Greeks of Ponto, i.e. Pontus Greeks.

Pontus Greeks occupy very significant place between Hellenes. They are called Pontus because they resided with compact masses in one of the important seaside regions of Turkey-Pontus from ancient times until XIX-XX centuries. They possessed numerous settlements between east Rize and west Girusuni. The most known centers of this area were Trapizoni, Oenoe, Samsuni (old Amisosi) and Gumushkhane (old Argirupolisi). As it is supposed, according to the various sources, there were 102 Hellenic settlements in the region of Pontus in a due time. It is true, that other people also resided in the same region and first of all the Georgian-language tribe, advantageously Lazians, who were the veritable regents on this territory, but by the papers of the Ottoman Empire, Greek-language population was the most numerous in the Pontus region.

According to the newest data, so-called Greek language population approximately consisted of 700,000 persons even before 1922. This was happening when the rest 500,000 were already exiled mainly in Russia and Georgia from Turkey, also in USA during XIX century and up to 257,000 Pontus Greeks died in Turkey in the period of their persecution. Up to 400,000 Pontus Greeks left the region of Pontus and exiled after the concluded agreement between Turkey and Greece in Lozano, on January 30 of 1923. Their majority was inhabited in Macedonia.

Pontus dialect possesses sufficiently independent position between modern Greek dialects. Some people discuss it as the separate language. It has left some of the signs of the old Greek language that do not appear in today`s Greek dialects.

Pontus Greeks, as we have already mentioned, settled in those regions where they had historical relationships with different people, in the first place with Georgian tribes. The results of these relationships must be not only the separate lingual elements (from one side they reflect the trace of the Pontus dialect in the language of Lazian population of Turkey and from the other side of the Georgian in Pontus), but also the mixing of the population. As it seems, orthodoxy was retained mainly by the Greek population in these regions and because of this, for many Georgians retaining of the faith meant that they recognized themselves for Greeks. On the other hand, from those Greeks who gave up their faith, not so few joined Muslim Georgian-language population. Thus, tight relationships of the Georgians and Pontus Greeks on the territory of Turkey already had sufficiently solid basis. These old contacts deserve special interest and probably learners, who study dialect of Pontus and speech of the Georgian-language tribes in Turkey, must pay more attention to this in future. Besides, it is also very interesting to study those contacts that Pontus Greeks had with the residents of the Black Sea county-Shavian, Skvith-Alanian or other generation. The relationship with them left adequately important trace in the process of formation of the Pontus dialect.

A large amount of those Pontus Greeks, who exiled in Georgia and settled in its various regions, was not homogeneous from the beginning. Greeks of Georgia can be divided in two main groups: Hellenistic, i.e. talking on Greek language and Turkish-language group. Pontus dialect of the Greek is not also homogeneous in Georgia from its side and shows more or less important distinctions in various regions.

Greeks, who reside in Georgia and talk on Pontus dialect, call themselves-Romeo (rarely Hellene or Greco) and Urumi is the name of Turkish-languages. Both names come from the term Rome. As it is known, in the Greek tradition, Greeks, who resided on the east territory of the Roman Empire, including of Byzantine epoch too, were called Romans. Accordingly, Romeo comes from this title. As for Urumi, it probably represents the result of the Turkish-language transformation of the form with article of the mentioned term. Georgians call Pontus, as well as their Byzantine ancestors-Berdzeni; Russians-Grek; Armenians-Kuin and Azerbaijanians-Rum.

As we mentioned, appearance of the first settlements of Greeks is connected with the intensive Greek colonization of the Black Sea countries. Small group of Greeks settled in Georgia in the second half of XVIII century. Georgian people started to obtain silver and lead by the initiative of king Erekle the second in that period. Greek masters of this trade were invited from Anatolia. By unknown data, approximately 800 families of Greeks from Giumiushkhan settled in the areas of Akhtala in 1763. Greeks, who lived in the village Ophrethi of Marneuli region, are their descendants. Lately, in 1813, 120 families of Greeks arrived from Turkey and settled in the former village of the Georgian people-Tsintskaro (Thethritskaro region). Approximately 7 thousand Greeks from Turkey settled in Thrialethi again in 1830, they created 18 villages on the former place of Georgians.

Greeks settled in seaside Adchara in the mid years of XIX century, also in the village Iraga (Thethritskaro region) and Tsikhisjvari (Borjomi region). Greeks massively settled in Abkhazia from the sixties of XIX century, mainly in the near villages of Sokhumi. These Greeks also were from Turkey and mainly followed tobacco industry. Total amount of Greeks was approximately 40 thousand by the end of the same century. Their important part lived already in towns by that time (Tbilisi, Batumi, Sokhumi and etc.).

According to the census of 1800 Greek population in Georgia was 0,5 thousand; in 1832 - 7,0; in 1865 - 12,0; in 1886 - 28,8; in 1897 - 38,5.

After this we have the census of 1926, according which the total of Greek population in Georgia was 54,054; According to the census of 1939 in Georgia were living 84,960 Greeks; in 1959 - 72,9; in 1970 - 89,2; in 1979 - 95,1; in 1989 - 100,3.

According to the census of 2002 in Georgia, 15,166 Greeks lived in the country and 3,792 of them resided in Tbilisi.

Sources:

- Greeks in Georgia (collective monograph, editor R. Gordeziani), Tbilisi 1990, pp. 5-8;
- V. Jaoshvili, Georgian population in XVIII-XIX centuries, Tbilisi 1984, page 223;
- V. Jaoshvili, Georgia`s population, Tbilisi 1996, pp.79-290;
- Principal results of census of the Georgian population, Tbilisi 2002, vs. I-II.